For years, automakers have been known to discontinue models due to poor sales or high production costs. However, there are some discontinued models that are now worth more than their original value.
The value of a discontinued car often depends on what the car was valued at initially and if it had any valuable parts that are no longer available or rare. In a lot of cases, your car may just be worth scrap or a bit more than its original value.
If you own a junk car that has been discontinued, you may be wondering what it would be worth if you junk it to a yard like 114 Auto Salvage or try to sell it for retail if it's in good enough condition. Here is a handy guide to help you find out if your discontinued car may be worth more or if it's just scrap value.

What Should You Do If Your Vehicle Is Discontinued?
If your vehicle is discontinued, it's important to take some time to research the junk car market. You'll want to find out how much similar cars have sold for in the past and get an idea of what the current market value might be. It's also a good idea to contact a local junk car dealer or scrap yard to get their opinion on what your car might be worth.
If 114 Auto Salvage is looking for parts for your discontinued junk car, we may be willing to pay more for it. Contact us today to find out. Either way, talking to a legit buyer helps you get an idea on where your discontinued junk car stands in terms of value.
Is It Time to Put Your Discontinued Car Up for Sale?
Most of the time if you wait to put a discontinued car up for sale it will lose value. However depending on the year, make and model- it may gain value over the years. That's why it's important to do your research and ask a trusted mechanic or a car enthusiast.
If you want a 3rd opinion about your junk car, please call 114 Auto Salvage's main line at 978-396-2448. Any of our buyers will be more than happy to help you find out what your discontinued junk car might be worth.
Is Your Discontinued Vehicle Safe to Drive?
If your car has been discontinued, it's important to make sure it's still safe to drive on the road. This is especially true if the model is no longer being manufactured. If you want to sell your car based on retail pricing, you should have the car inspected by a mechanic to make sure it's in good condition before putting it up for sale. If it's too expensive to fix, call 114 Auto Salvage and we will be happy to junk your car for cash.
Get a Fast Cash Offer Now!
Same Day Pickup & Always Free Removal!
The Annual Costs of Maintenance Are Expensive
The older a car is, the more expensive it will be to maintain in some cases. This is especially true for discontinued models, as parts may no longer be available or may be very expensive to purchase. It is important to decide whether or not you're willing to spend time and money repairing your vehicle over and over.
114 Auto Salvage will pay cash for discontinued junk cars in any condition.
The Car Could Be A Safety Hazard
If your discontinued car is no longer safe to drive, it's time to junk it. Don't risk driving a car that could break down on the road because it isn't up to current safety standards. Oftentimes, discontinued cars are probably on the older side and don't have the safety features newer vehicles are equipped with for your peace of mind.
114 Auto Salvage will pay cash for your discontinued junk car as long as you are in our pickup area or you are willing to bring it to us!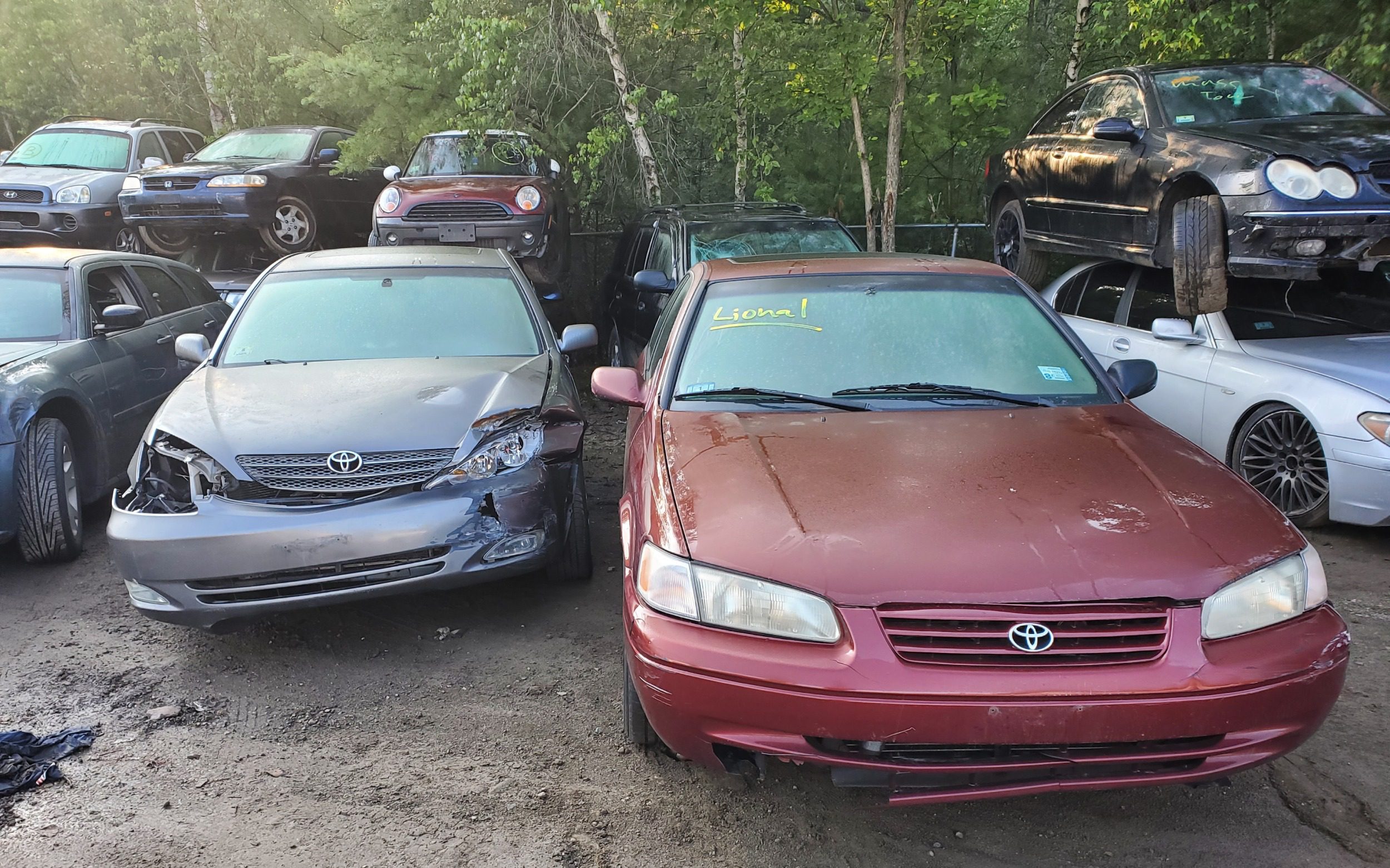 The price of scrap metal changes all the time. To get an accurate estimate, you should contact a reliable car scrapper in your area. They will be able to give you an estimate based on the weight and type of metal your car contains.
Pricing may also depend on the year, make, model and mileage of the vehicle. 114 Auto Salvage may be able to offer you salvage pricing instead of scrap pricing for your car if it is new enough and in good condition. Call our main line at 978-396-2448 to find out what we can give you for your junk car.
Selling Your Automobile for Scrap Metal
When selling your car for scrap metal, it's important to find a reputable buyer who will give you a fair price. One way to do this is to research local junk car dealers and scrap yards in your area. Go to google, search "junk cars for cash near me". You will find many yards like 114 Auto Salvage listed. You will often have the option to get a quote directly from the website or give the yard a call during their business hours, which will vary from yard to yard.
You can also ask friends, family members or even a couple of trusted mechanics if they know of anyone who buys junk cars. Once you've found a few potential buyers, you should compare their prices and services to find the best deal.
At 114 Auto Salvage, we accept all types of vehicles regardless of make or model. We offer top dollar for junk cars and will even pick them up for free.
114 Auto Salvage will not only give you the best price for your vehicle, but we also pick up 7 days a week (except for major holidays) and do same day or next day pickup.
We also provide cash, check, Cash App or Venmo once the driver checks your car during pickup- let us know what you would prefer.
If you have any questions about junking your car to 114 Auto Salvage, please don't hesitate to contact us at 978-396-2448. We would be happy to help you get the best price for your junk car.
We want to share our location to find us easily.